DAVID ERIK NELSON —Raconteur
David Erik Nelson is an award-winning science-fiction author and essayist. Some of Mr. Nelson's speculative fiction is available for free online—occasionally without his knowledge or consent (no hard feelings, though). Other bits can be purchased. His latest non-fiction book is Snip, Burn, Solder, Shred: Seriously Geeky Stuff to Make with Your Kids.
FREELANCE
Having written or edited several hundred reference articles and almost a dozen textbooks (such as Perspectives on Modern World History: Chernobyl and Teens and Sex), Mr. Nelson now focuses his freelance energies primarily on marketing copy and the occasional piece of legitimate journalism. David Erik Nelson is available to work on your promotional, educational, informational, or diabolical campaign. Learn more about his freelance writing and consulting services.
BOOKS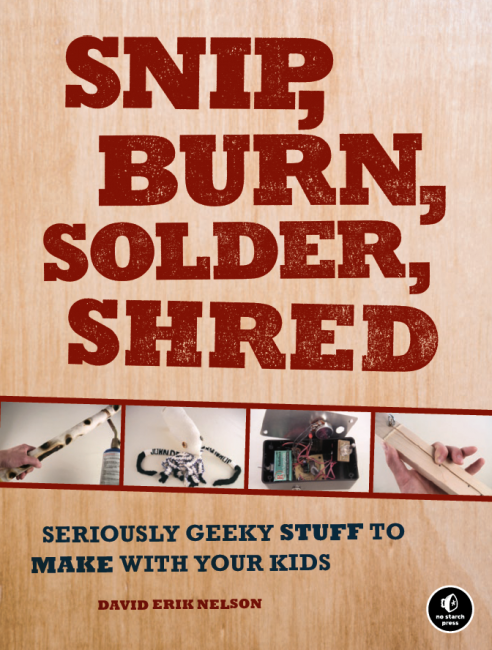 His geeky craft book, Snip, Burn, Solder, Shred: Seriously Geeky Stuff to Make with Your Kids, is now available in all fine real and virtual bookstores. Learn basic soldering, sewing, carpentry, woodburning, and screen printing while making x-ray drums, guitar effects, steam ships, boomerangs, kites, games, a sock squid, and more.
Seriously: order this soon.
— Rob Malda, founder of Slashdot.org
Check out sample projects on sewing a sock squid or sock Cthulhu and building and tuning cardboard boomerangs.
His forthcoming book, Junkyard Jam Band: DIY Musical Instruments and Noisemakers, will be out in mid-2015.
FICTION
His notable stories include "Bay," "The Traveling Salesman Solution", and his celebrated novella "Tucker Teaches the Clockies to Copulate." His work has been featured in Asimov's Science Fiction, The Magazine of Fantasy & Science Fiction, StarShipSofa, and anthologies like The Best of Lady Churchill's Rosebud Wristlet (Del Rey, 2007), Steampunk II: Steampunk Reloaded (Tachyon, 2010), and Steampunk III: Steampunk Revolution (Tachyon, 2012).
Best of all is "Bay" by David Erik Nelson, a recontextualization of ghosts that is authentically surprising, genuinely horrifying—an extraordinary achievement in a hackneyed subgenre.
— Nick Gevers, Locus, September 2003 (Recommended Story)
included in the anthology The Best of Lady Churchill's Rosebud Wristlet
["Tucker Teaches the Clockies to Copulate"] is at one level nearly wacky, but it has deeper concerns, reflected in the examination of the treatment of such disadvantaged individuals as alcoholics, Confederate veterans, the Chinese, Jews, and of course clockwork ex-soldiers. It all comes together very effectively.
— Rich Horton, Locus, July 2008 (Recommended Story)
now available as a standalone illustrated ebook
That ["The Traveling Salesman Solution"] was a very disturbing story.
— David Gerrold, novelist, screenwriter, creator of Tribbles

In 1999 Mr. Nelson co-founded Poor Mojo's Almanac(k) with Fritz Swanson and Morgan Johnson. For about a decade the three served as co-editors, writing her weekly Giant Squid advice column. Since July 7, 2011 Poor Mojo's Almanac(k) has operated in automated archival "classic" mode, offering a weekly taste from her vast and terrifying archive of back issues. Mr. Nelson continues to co-author Giant Squid columns and stories for occasional periodical, anthology, and ebook publication.
LISTEN & READ
Learn more about this dynamic character via Sir Tim Berners-Lee's fantastic World Wide Web:
SHOP
CONTACT
dave[at]davideriknelson[dot]com